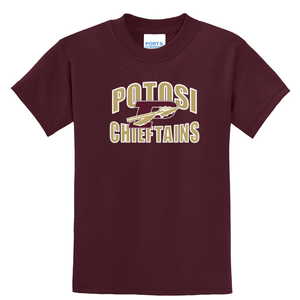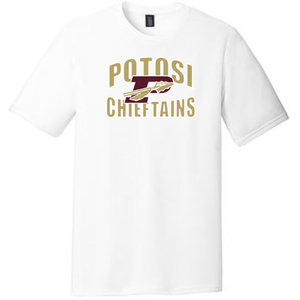 High School Football Potosi/Cassville vs Ithaca at Potosi High School Starting at 7 PM
https://youtu.be/HPXYORyUYeE
Thanks to the following businesses who are sponsoring tonight's live stream. With the support of these businesses we are able to provide this broadcast free of charge. Schmitz Plumbing and Heating Potosi Sports Boosters EPIC Haas Excavating Leibfried Feed Service Inc. Royal Bank Tennyson-Potosi Community Bank Midwest Motor Sports Friederick Excavating Haaser's Auto Repair Oyen Technologies Potosi Saloon Well Built Humans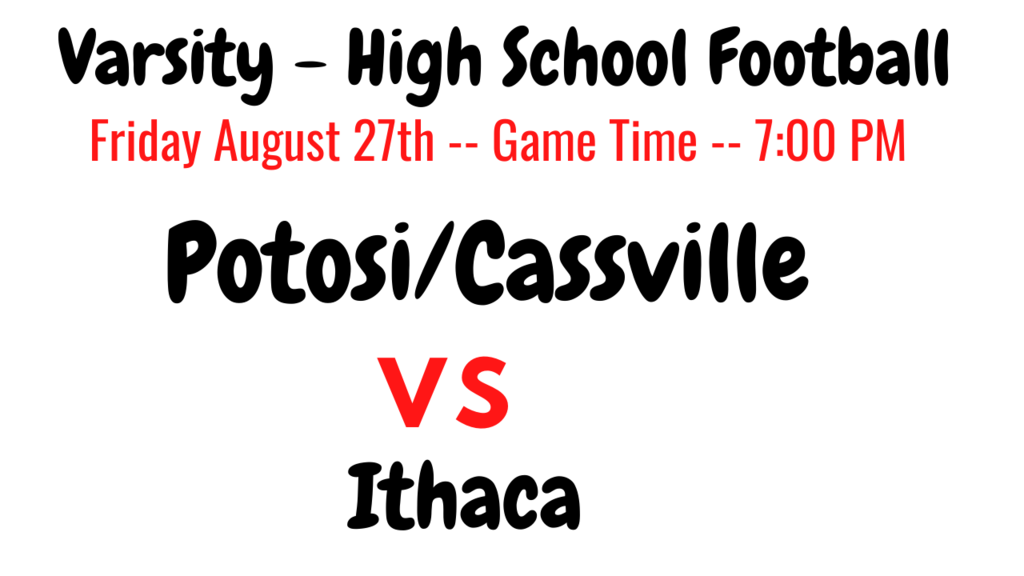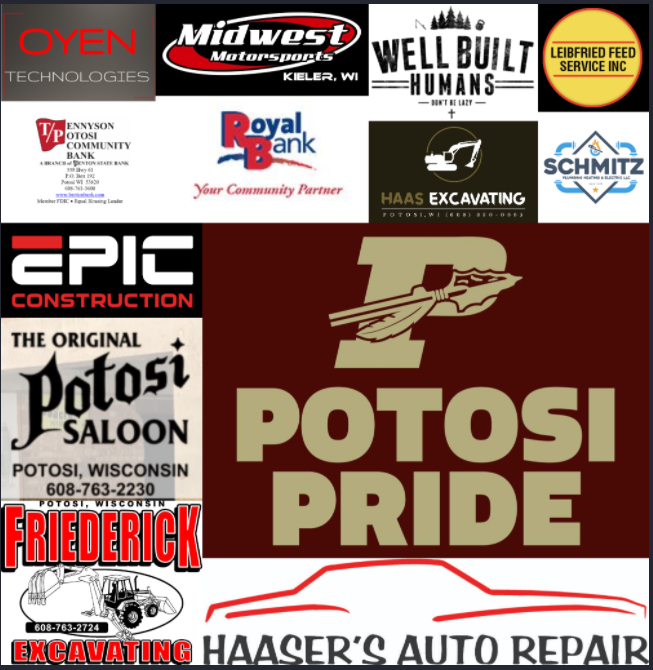 VOLLEYBALL FANS - 2021 FUNDRAISER We are reaching out because we are in the process of raising money for the 2021 season. The money raised will be used for a variety of different needs. Some of the needs include uniform pieces, equipment, summer activities, meals supplied by the program, parents night, senior night, banquet, and help in funding extra coaches when needed. Our goal is to raise $5,000. The volleyball team will be choosing a service activity in thanks to everyone who has donated. More will come on that later. Donations can be made using the link below.
https://www.schoolpay.com/pay/for/Volleyball-Fundraiser/SbNbZYd
Thank you for supporting the Potosi Volleyball Program. Tax Deductible receipts will be sent via email.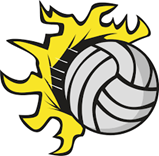 Potosi School staff were treated to lunch today and special goody bag on behalf of Potosi-Tennyson Area Chamber of Commerce and several area businesses. #PotosiPride #ACommunityOfCharacter #ThankYou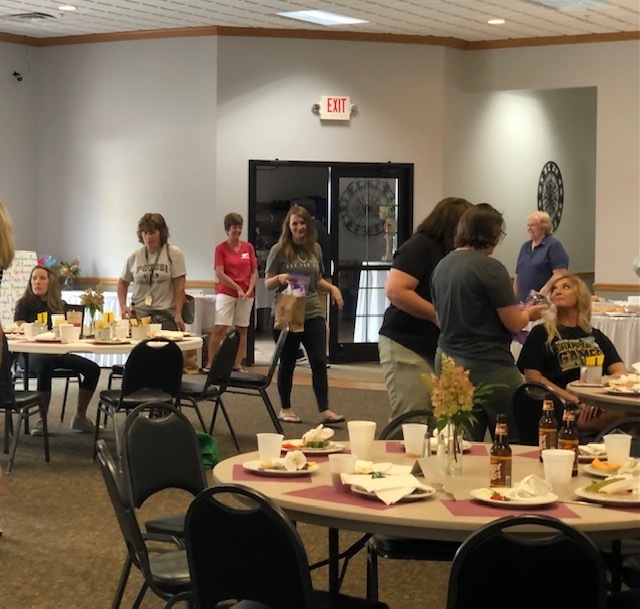 Join us for Open House tonight at Potosi Elementary School on August 25th, from 3:30-6:00pm #PotosiPride #ChooseLove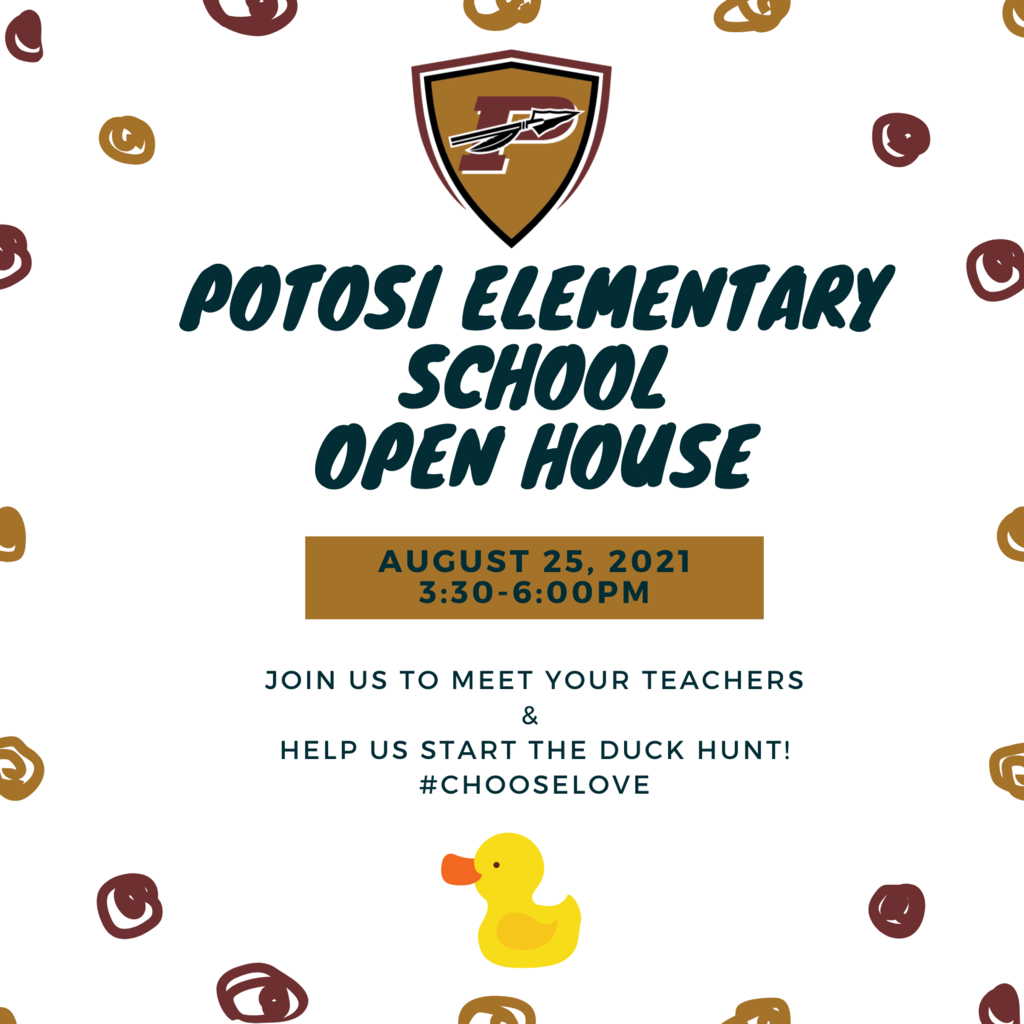 The Middle School Football practice scheduled for today (8/24) has been cancelled. Practice will be Wednesday and Thursday this week at the normally scheduled times. To make up for the missed practice times and in preparation for next Thursday's game, practice will be held on Monday, Tuesday, and Wednesday of next week.
Can you help us with a DUCK HUNT? #ChooseLove #PotosiPride

Monday, August 23rd JV Football Potosi-Cassville vs Pecatonica-Argyle at Potosi starting at 5:30 Thanks to the following businesses who are sponsoring tonight's live stream. With the support of these businesses we are able to provide this broadcast free of charge.
https://www.youtube.com/watch?v=myscbYwGvkM
Schmitz Plumbing and Heating Potosi Sports Boosters EPIC Leibfried Feed Service Inc. Royal Bank Tennyson-Potosi Community Bank Midwest Motor Sports Friederick Excavating Well Built Humans Oyen Technologies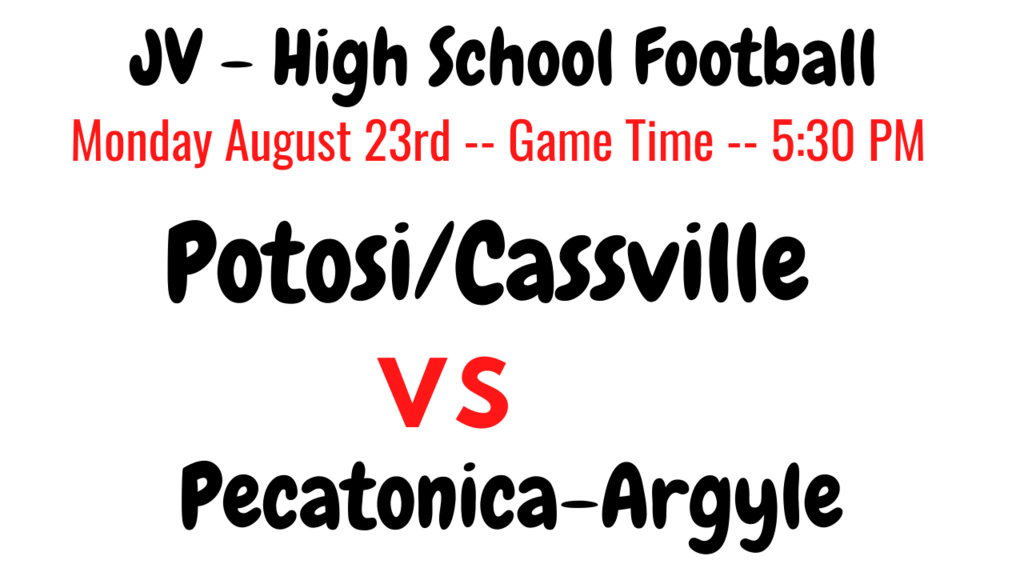 Potosi High School events for August 23-28
Join us for the kickoff of our fall sports! @PotosiPride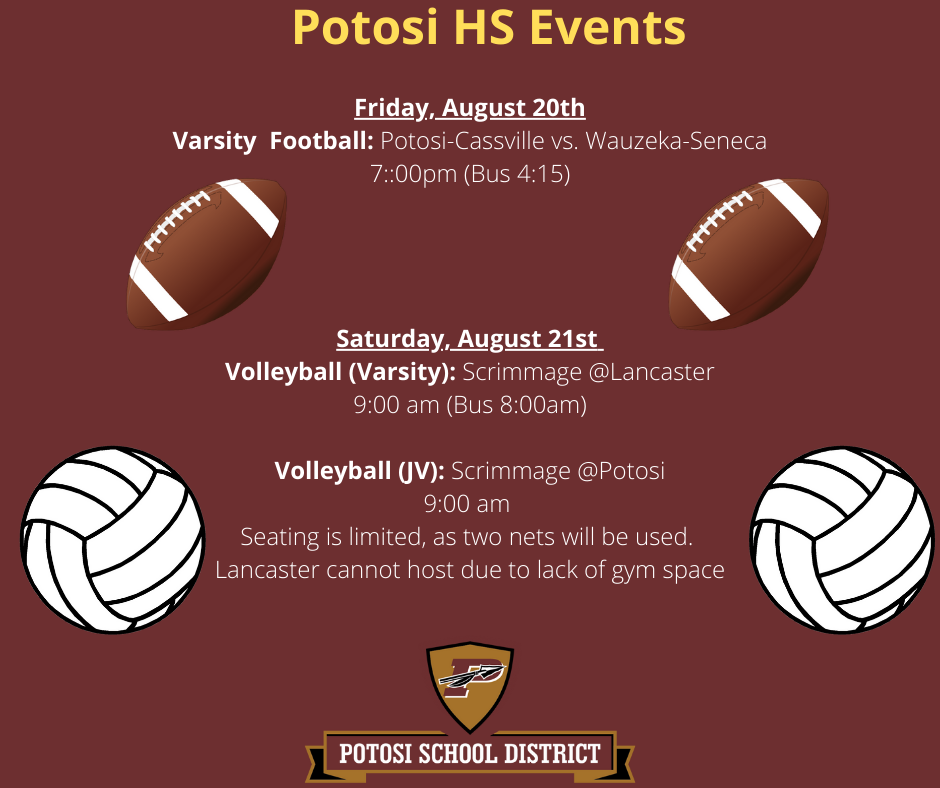 Now hiring! Come join our AWESOME team and help students reach their potential! @PotosiPride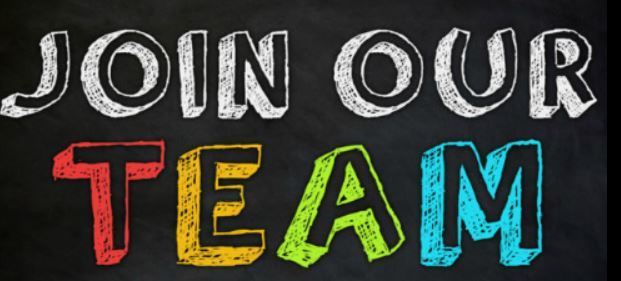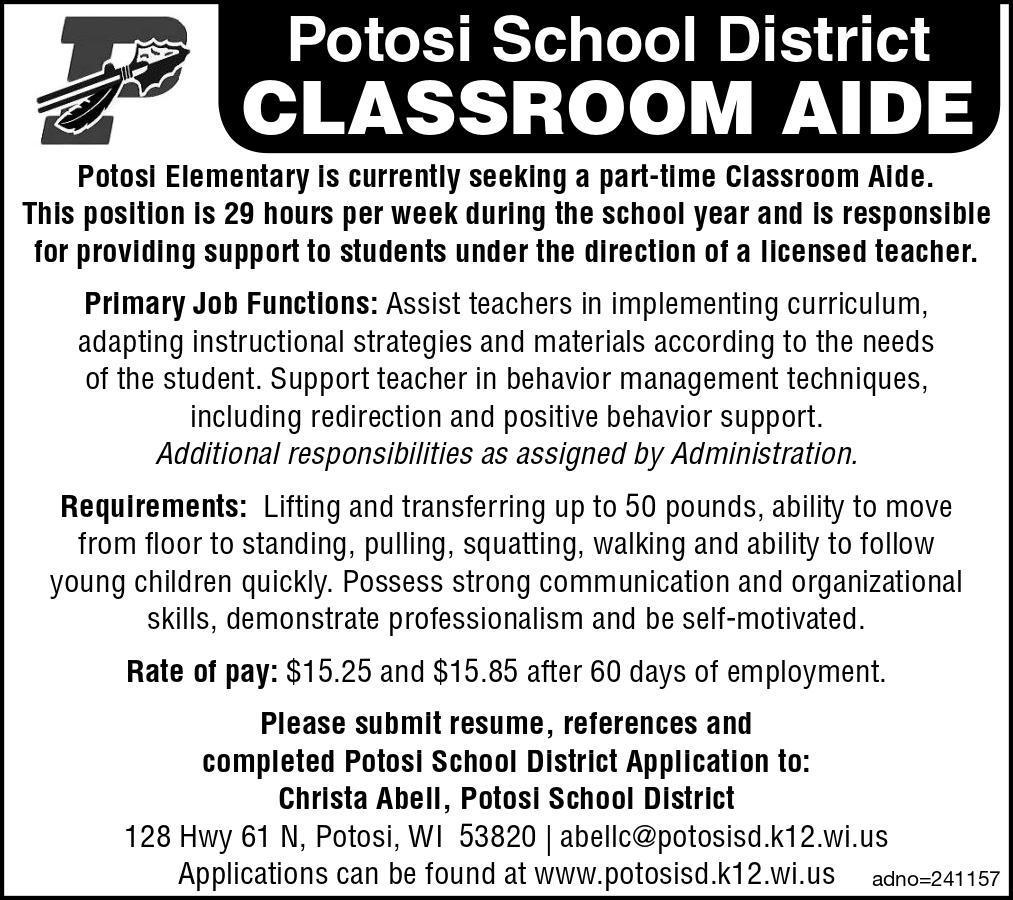 Tonight's (Wednesday, August 11th) Potosi-Cassville Middle School Football Practice has been cancelled due to an excessive heat warning/advisory. Plan on the first practice being Friday at 6:00pm. Remember that it is Potosi-Cassville Football Family Night and we are hoping for great weather.

Tonight's Potosi-Cassville Middle School Football Practice has been cancelled due to an excessive heat warning. Practice for Wednesday is still on as of now.

The school office will be open from 8-4 today, August 10th for registration. If you are unable to do online registration or need assistance, please feel free to visit or call into the office during this time. Thanks!

Potosi-Cassville Football - Family Night Friday, August 13th, 2021 6:00-8:00pm At Potosi High School

Dear Parents, Online registration is now open. Please go through the registration and pay the school fees at your earliest convince. If you need help with registration, we will be in the School Office on August 10th, from 8 am to 4 PM. If you ordered a high school yearbook last year - you can also pick it up on August 10th from 8 am to 4 pm in the school office. Thank You, Potosi School District
Potosi Duck Hunting Season will be starting soon and YOU ARE INVITED! Look closely at the picture below, and you can see that the ducks are already spreading the word throughout the community. 😊 Interested in joining in on the fun? Check out the invite! See you on Wednesday, August 25 3:30-6:00 (during Elementary Open House)!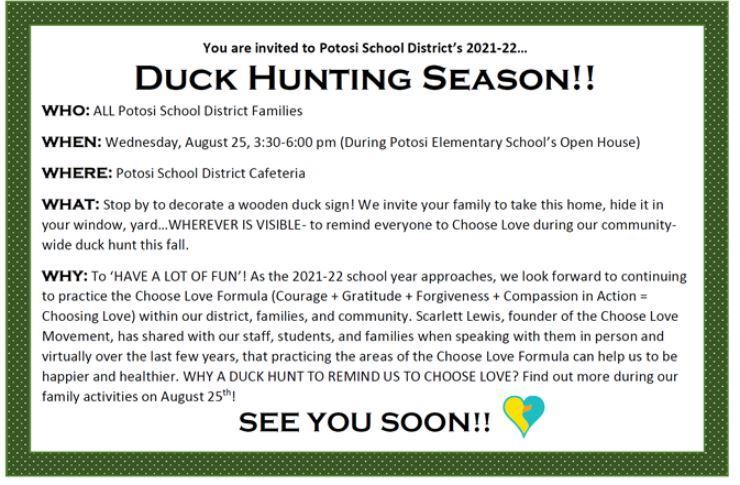 As the start of the school year nears, there will be an Open House for the elementary school on Wednesday, August 25th from 3:30-6:00pm. During the open house, we will continue to promote the CHOOSE LOVE program with some DUCK HUNTING! Please join us!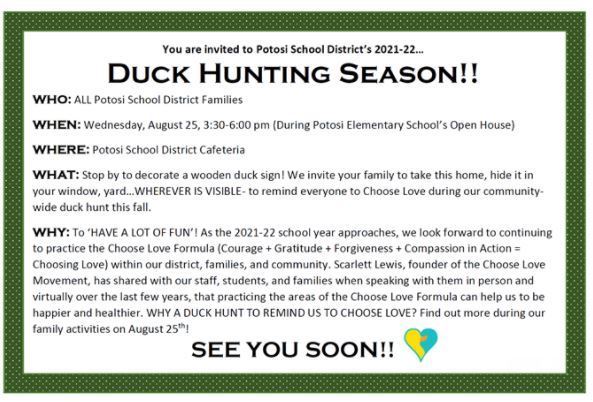 Congratulations to the 2021 Little League Softball Champions.