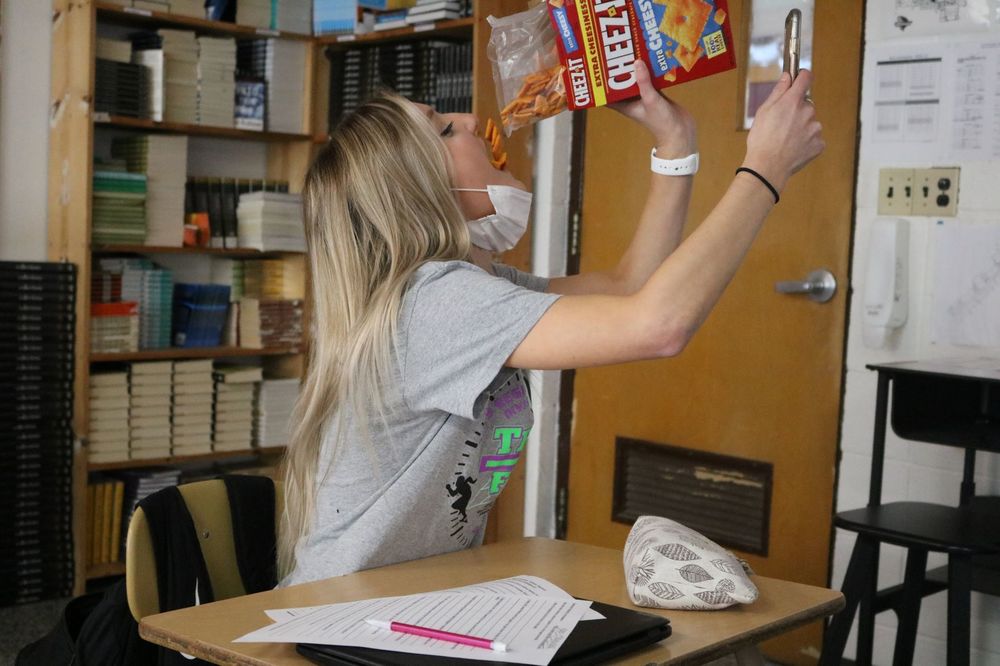 Senioritis Kicked in Early
Anna Kruser
Tuesday, March 09, 2021
Senioritis is worse this year than it has ever been. Teachers are finding that students are not putting effort into their work, and their attitude towards school has been negative. "When waking up, in the morning my first thought is that I hate school and don't want to go." Senior Sydney Fecht is one of the many seniors who have senioritis.
Senioritis is a decrease in motivation in seniors when they are nearing the end of their high school career. Senioritis is a very serious problem that many people push aside and don't take seriously. Last year, with online classes, many students had time to slack off and not put in much effort into school because something bigger than education was happening. Now, with a better understanding of the pandemic, the transition back to in-person school has been very difficult for the students, but especially the seniors because of all the stress that is going on in the world. "During quarantine, I had a lot of time to just slack off a little, so coming back to school and playing sports I have no time at all, so it's a little hard," said Sydney Fecht. Most of the seniors succumbed to senioritis last year during our online period because expectations were so relaxed. Teachers were told by the administration not to assign as much homework because of what we were going through. Mr. Fry explained that they were told to test the essential skills but to not push too much because they didn't want the students to get overwhelmed.
Senioritis affects behavior, attitude, effort, and grades. Too many students use senioritis as an excuse for not getting anything done, and then complain when their grades drop. Many of the teachers at Potosi High School understand what the seniors are going through and their expectations of seniors are consistent. "I can totally understand a little slipping this year, just because there are so many stresses on us with the pandemic and other things going on in the world. I am trying to be a little more flexible and understanding this year especially, but I also feel that consistent expectations are especially important right now to keep students on track," said English teacher Mr. Fry. S All they ask is that we put in our best effort because, at the end of the day, senioritis is a mindset that you need to get out of.
You can defeat senioritis by setting goals for yourself, or writing down what you have to get done. Most of the seniors will go on to college or work and need to know good study habits. When studying, work for 15-minute intervals. In between the intervals, do something that you enjoy. Another good study habit is to play some background music. A good tip is to study throughout the chapter and not all at once before the test, or you can use flashcards to study. "I have a goal to be Valedictorian and that keeps me working hard." Senior Brooklyn Friedrick is a great example of overcoming senioritis and keeping a growth mindset.