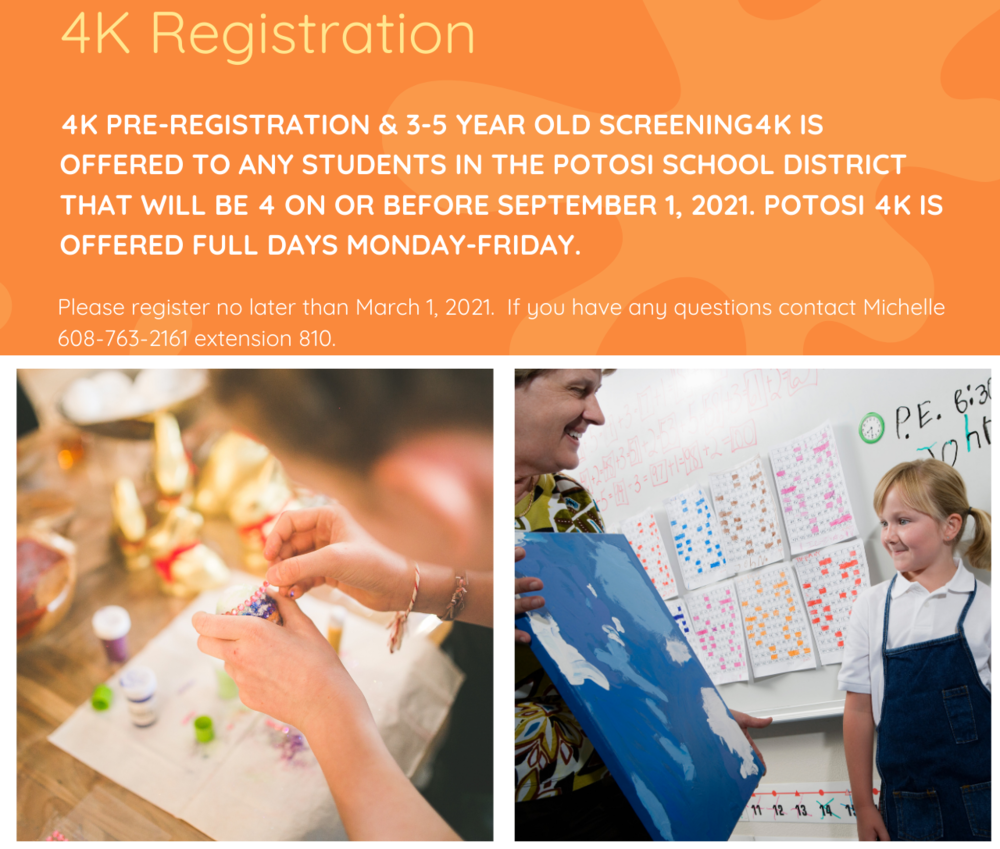 4K Pre-Registration & 3-5 Year Old Screening
Jenna Schroeder
Monday, February 15, 2021
Potosi School District
4K Pre-Registration & 3-5 Year Old Screening
4K is offered to any students in the Potosi School District that will be 4 on or before September 1, 2021. Potosi 4K is offered full days Monday-Friday.
***See open enrollment information below if not in the district***
The Potosi School District will be holding a 4K pre-registration for the 2021-2022 school year online at potosisd.k12.wi.us
Click here to fill out the registration form.
Please register no later than March 1, 2021. If you have any questions contact Michelle 608-763-2161 extension 810.
Due to COVID restrictions, we will not be holding an in-person screening. Orientation materials and necessary forms will be mailed out to the families who have a child registered in the program.
Families with 3 year old children or children who will be 3 in the fall of 2021 and have concerns about their speech/language, motor skills, behavior, learning or basic skills contact Michelle at 608-763-2161 extension 810.
Open Enrollment
If you do not live in the Potosi School District and would like your child to attend Potosi Schools you may be eligible under the open enrollment procedure. You can contact the school for the open enrollment procedure and application or find it online at http://dpi.wi.gov/oe
The 2021-2022 regular open enrollment application period is February 1-April 30.