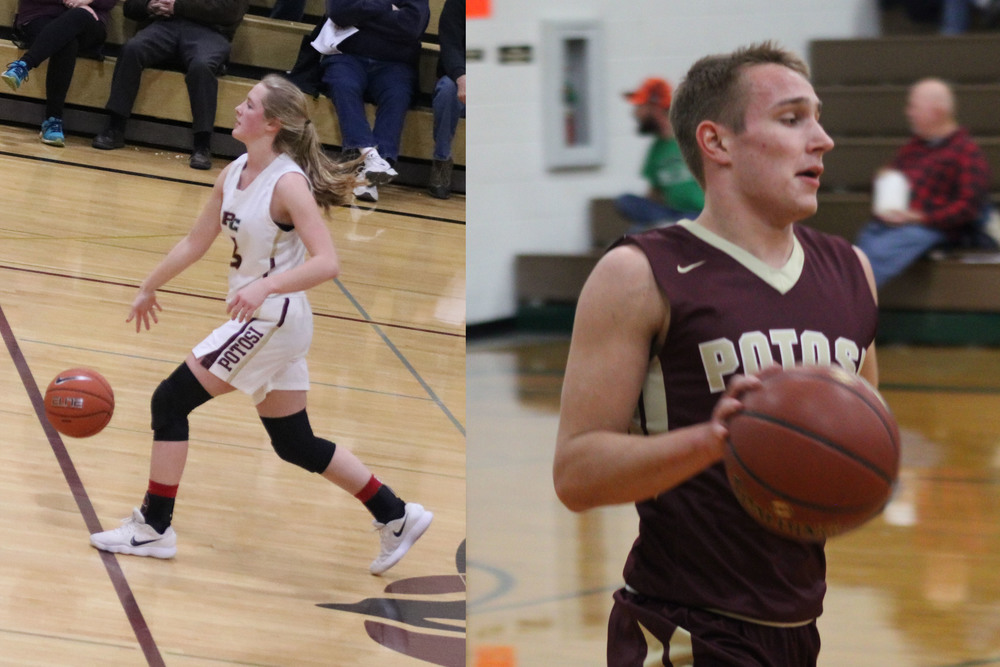 Seniors Enjoy Final Hoops Seasons
By Chloe Groom
Friday, January 10, 2020
The seniors at Potosi High School are experiencing many lasts; one of these lasts is the current basketball season. The last first game of the season, the last first practice of the season, last team pictures, and much more. Four years of hard work, and the time has now come for their last season of basketball.
Justice Udelhofen, one of three seniors on the Potosi/Cassville Girls basketball team, explained some of the changes that she has experienced in her senior season. "There have been a lot of different challenges this year, having two new coaches and three new offenses, and learning other new stuff." Her role has also changed a lot this year. "I went from being a wing to being a point guard. There is a lot of pressure on me this year." Since this is her last year, I also asked her what her goals were, what she wanted to accomplish before her final season was over. "To figure out the plays, and get better every day," Justice answered.
Ty Dressler, one of seven seniors on the Potosi Boys Basketball Team, told of how this season is different than past seasons. "This year we are the seniors, we are the example," said Dressler. "Showing [the underclassmen] how to do the drills, we keep control of the underclassmen on the bus, in the locker room. It is our responsibility." With this being his final year of high school basketball, I asked him about some of the goals that he has this year. "To have a lot of fun with the boys, and [to] win conference," replied Dressler. He also added, "to make a run in the playoffs, make memories, and have no regrets."
I also talked to Ben Udelhofen, another senior on the Potosi Boys Basketball team. His take on his final season was similar to Dressler's, but he talked more about the end of the season, how it was unavoidable. "It's more inevitable, so close to the end, it's kind of scary." I also asked him how his role changed this season. "Not much," replied Udelhofen, "shoot more threes, and I'm more of a leader." His goals are also similar to Dressler's; they include "to have a lot of fun, win games obviously, and do it the right way."
The basketball teams at Potosi are very fortunate to have such amazing senior leadership. They know what their responsibilities are and they know what they want to accomplish in their final season.