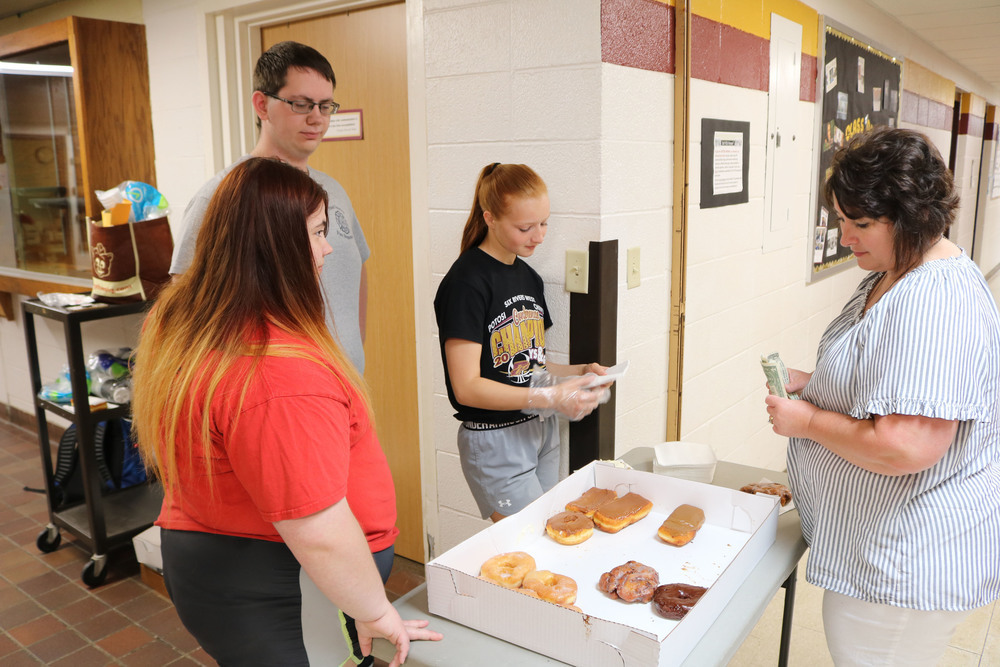 Why FBLA Sells Donuts To Learn Business
By Avarie Breitsprecker
Friday, January 10, 2020
Future Business Leaders of America (FBLA) is a club in our school that has donut sales, among many other things. Every few months, FBLA holds a donut sale in the morning before high school classes begin. The next donut sale is the morning of Wednesday, January 15th and Thursday, January 16th, before semester exam periods. Mr. Lynn informed me of the duties the FBLA has during the donut sales.
"FBLA got started when I got hired, as an effort to rebuild the club which had been dormant since 2012," said Mr. Lynn. He just put out a message for students that were interested and went from there. He started in the 2017-18 school year.
"I was asked to join FBLA,'' said Stevie Kliebenstein, the President of FBLA. He didn't really know what he was getting himself into when he started, but he liked the group so he stuck with it. FBLA helps prepare you to own and manage a small business.
At each meeting, they determine what donuts they think people will want to buy at the upcoming donut sales. They also conduct market research by sending out surveys for students to fill out. During the meetings, they also figure out when the next donut sales will be, and how they can improve for the next sale.
After they determine what donuts people would like the most, they call Blue Boy Bakery on the Thursday before the donut sales. On the morning of the donut sales, Mr. Lynn goes to Blue Boy Bakery before school and picks up the donuts. He then meets two or three of the members of FBLA at the school to set up before the students get to school. They begin selling donuts at 7:30 am and end when the bell rings at 7:55 am.
They have the donut sales to raise money for the FBLA. After the donut sales, they clean up and take all of the money to Mr. Lynn's room. Mr. Lynn counts the money and it goes into the FBLA fund. The money is used to get better items for future donut sales and for the club members to go on a field trip to Madison at the end of the year, to visit a couple of businesses and play laser tag.