EDIT MAIN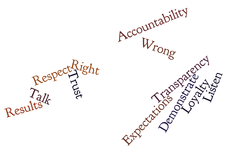 The Potosi Board of Education is a (7) seven member Board with all members elected at large. The Board works closely with the District's Superintendent as a Governance Team. This Governance Team is focused on respect, honesty, and improving student achievement. The Board understands that it has (3) three main areas of focus: Planning, Performance Oversight, and Policy Making.
---
The Board believes in the following as imperative to effective leadership:
1.) Straight talk – Using simple language and not manipulating people or distorting facts.
2.) Demonstrate respect – especially with those who can't do anything for you. Show you care. The Board believes that by respecting the opinion of others and by graciously conforming to the principle of "majority rule," a school board member demonstrates respect.
3.) Create transparency – Err on the side of disclosure. Tell the truth in a way people can verify.
4.) Right wrongs – Apologize quickly. Demonstrate personal humility. Make things right when you're wrong.
5.) Show loyalty – Give credit freely. Speak about people as if they were present.
6.) Deliver results – Establish a track record of results. Don't over promise and under deliver.
7.) Get better – Continuously improve. Don't consider yourself above feedback.
8.) Confront reality – take issues head on, even the 'non-discussable." Don't bury your head in the sand.
9.) Clarify expectations – Discuss and validate them. Renegotiate them if needed and possible.
10.) Practice accountability – Be clear on how you'll communicate how you're doing and how others are doing. Don't blame others or point fingers when things go wrong.
11.) Listen first – Listen before you speak. Don't presume you have all the answers, or all the questions.
12.) Keep commitments – Say what you're going to do, then do what you say you're going to do.
13.) Extend trust – Learn how to appropriately extend trust to other based on the situation, risk, and credibility (character and competence) of the people involved.