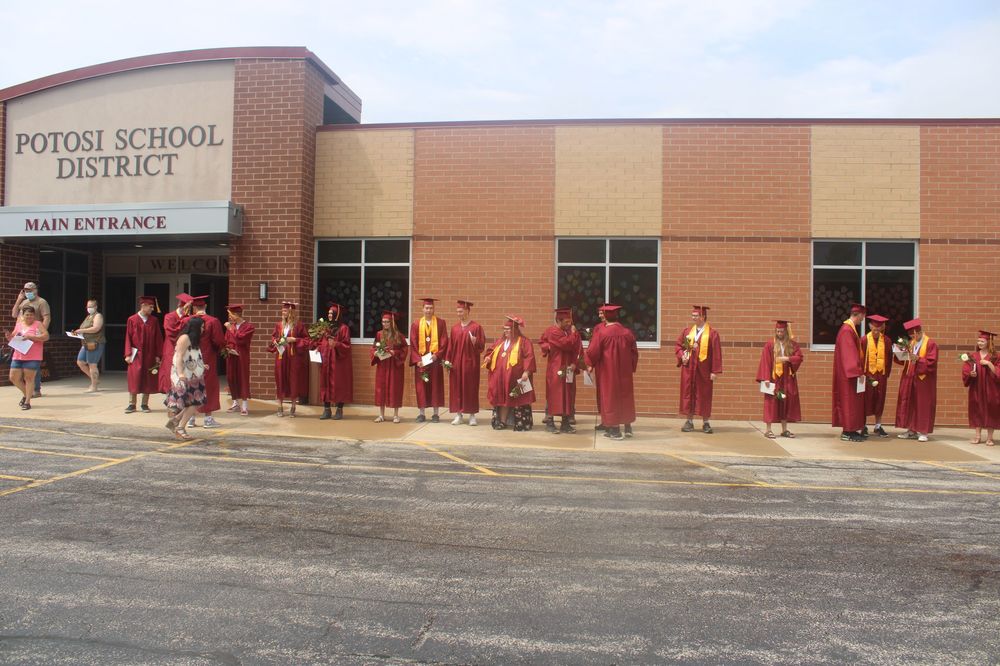 How High School Has Changed
Brooklyn Friederick
Wednesday, February 24, 2021
The screeching sound of chalk on boards is no longer heard when you walk down the halls of Potosi High School. Instead, the sound has been replaced with the tapping of electronic boards where everything can be accessed in an instant.
When Rachel (Bode) Loeffelhotlz graduated from Potosi in 2011, everything was much different than it is now. "The whole school got a makeover!" she commented. "I don't think any of the rooms are the same anymore." Kortney Hellum, who graduated in 2007, also noted that students now have their own Chromebooks to get work done. "When I was in high school, we had a computer lab. We would have to stay after to work on reports if we didn't have a computer at home." Between Karlie Klas, who graduated in 2015, and this year's graduating class, the whole school has gotten a makeover. The addition of the auditorium, new weight room, lunchroom, art room, library, and upgrades to the shop are the big ways the school has been improved.
Not only has the school changed a lot, but classes and the teachers teaching the classes have changed. Now, Potosi High School offers a lot of different class opportunities. We have five AP classes, college classes, plenty of shop and agriculture classes, and many different English class options. Just four years ago, when Karlie graduated, Potosi only offered one AP class: AP English. In the case of Rachel, she also noted that AP English was the only AP class Potosi offered. "Personal fitness was also a fun alternative class," Rachel noted when I interviewed her. "Mrs. Weddings also had a few home economics classes." When Kortney was in high school, students also took their driver's education class during school as a sophomore. Now, students take that class during the summer.
Mike Uppena has been at Potosi High School since before Korney graduated, but his role has changed. Back in 2007, he was the Ag teacher and Driver's Education teacher. Today, he is the principal and he continues to teach Driver's Education. Along with Mr. Uppena, Tracey Brunton has been a favorite teacher at Potosi. Karlie said, "Mrs. Brunton was a ball of energy and happiness." That statement is still true today. Before he retired, Jerry Downs was a very respected teacher at Potosi High School who all students enjoyed having for class. Rachel noted two teachers that no longer teach at Potosi but were school favorites: Charlie Bull and Charlotte Schenkel. Both of these teachers taught when Karlie Klas was in school, and they were favorites then too.
Sports have always been a huge part of Potosi. However, the biggest changes sports have seen in Potosi have occurred in the past four years. Co-ops with Cassville High School have been formed with football, girl's basketball, track and field, baseball, and softball all in the past four years. Many of these teams have been successful, including both boys and girls basketball conference championships, regional volleyball championships, sending many athletes to state track, and always making the playoffs in football. Karlie said that football was the most prominent sport when she was in high school. Rachel said, "The girls' teams were successful. The volleyball, basketball, and softball teams all went to state while I was in high school." Korney also had a similar response, saying, "All of the sports teams were prominent."
Music has always been important in Potosi High Schools. Although Kortney said that she did not feel music was as big as sports, they still had a musical and pep band. Rachel was very enthusiastic when asked about music at Potosi. "Back in my day, Mrs. Busch, Mrs. Martin, and Mrs. Harrt had the music department well tuned. Musicals were a big deal! Hours and hours of building sets and practicing [went into the musical]." Similarly, today music is still important. Even with Covid, the music department has been able to adjust and make music just as important as sports.
Although Potosi is small, there is a certain charm to its walls that students never forget when they leave its doors. Kortney, who was heavily involved in the Ag department, said that she remembers soil judging the most. "We went to Sheboygan for State soils and then to Oklahoma for Nationals. It is something I'll never forget." Rachel had a bit of a different response saying that she always remembers the annual badminton tournaments and decorating for school dances. Lastly, Karlie notes that she will always remember the bleachers full of students and having a blast at the pep rallies. Even though Potosi has changed a lot throughout the years, and being a student is different today, Potosi has left a positive impact on the students that attend and will continue to do so for years to come.