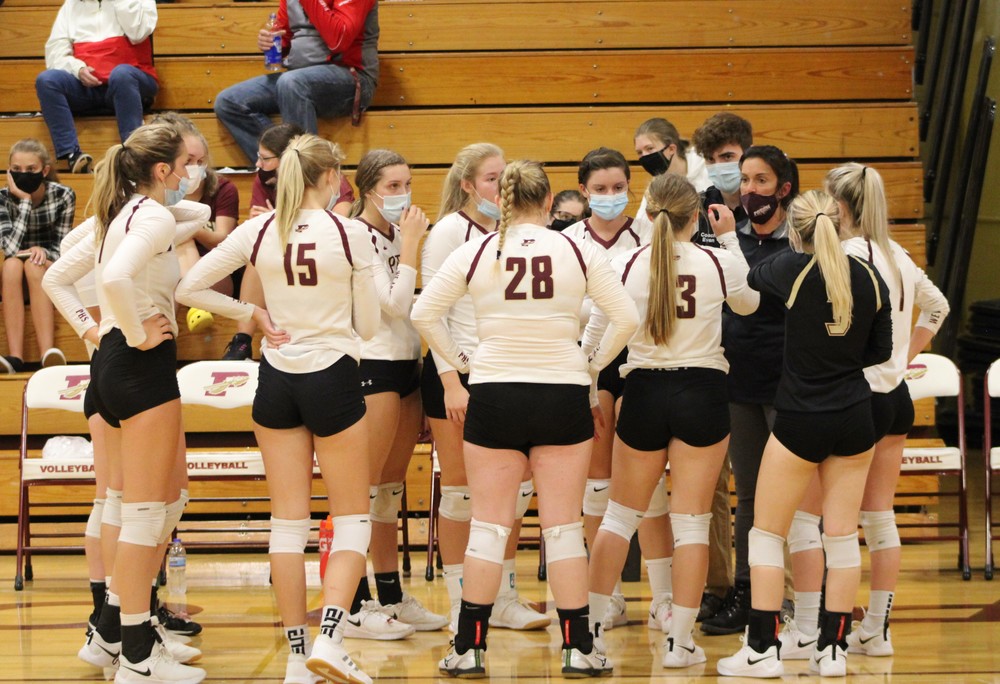 Playing for Coach Murray
Syd Fecht
Monday, January 18, 2021
The Potosi volleyball team had to deal with COVID restrictions, and that made for a weird season of course, but there was a more immediate and pressing obstacle facing us as a team near the end of our season. Our head volleyball coach Jolene Murray was rushed into emergency brain surgery on October 13. Suddenly our team was playing toward an eventual regional championship, not only without most of our fans in the stands, but without our leader on the sideline.
It was mid-volleyball season and our coach gathered us around and told us she had something really important to share with us. We saw her breaking down and we all felt an uneasy rumble in our stomach. She is our volleyball coach, so obviously, we all care a lot about her. She told us that the night before our practice she had gone into the ER for high blood pressure and a colorful swirl in her peripheral vision. She went on to tell us that they had found a cyst in her third ventricle, which was causing something called hydrocephalus. "This was an incidental finding of something very rare that I have probably had since birth," Murray said. We all looked at her with concern, wondering what this could possibly mean for the volleyball team. "I felt confident in the players' abilities to adapt to the situation without me there, and [I] felt confident in the system we set up while I was gone with Evan and Ron working together in different roles to do what was best for the situation and team. I knew I had no choice in the matter, so we all just had to make the best of the situation, " Murray said.
Ron Kading and Evan Bloyer stepped in as head coaches for the Potosi volleyball team. We all had to adjust to a whole new way of coaching, but we all knew in the end, if we pulled together and played like we were capable of playing, we would all be fine. "It's not about individuals with them, it's about "team", and they were just a lot of fun to watch. We received a letter from the last opposing team we played in Eau Claire complimenting the program on their poise, hustle and sportsmanship. It was a true testament to these girls and what a class act they are," Murray exclaimed.
This season has been hard to adjust to for everyone, but for Coach Murray it was a little different. She had more than just COVID to adjust around. She had a tough year, undergoing a very scary brain surgery. "Honestly, I am just very proud of myself, something that is not easy for me to ever admit. I know how hard those 12 days were, and I managed to get everything done that I felt I needed to do. It was probably the most difficult thing I ever had to do in my life, " said Murray.
As everyone is getting into the swing of the "new normal", this was a little bit harder to adjust to. If this year has taught anyone anything, it is to find the positive in every situation. The volleyball team knew how to do just that. "I am so incredibly proud of this group of girls. They are such a mature group when they need be, and they really just know how to have so much fun together. The fun factor is what I like best about them. I don't think there is ever a time when they aren't having a good time out there," Murray said.
It was not just about the team having fun with this year; Coach got in on some of the goofiness too. "I think that 2020 was such a crazy year that I was actually able to joke about the whole situation for a good part of it," Murray said.
The Potosi Volleyball team ended their season with lots of fun and laughs, even though it was not always the easiest. We stood together as a team and pushed through all the hard times while standing with our coach every step of the way. She couldn't be there physically, but before every game started, we made sure to look up at the camera and wave to coach so she knew we were thinking about her and playing for her. After every timeout, we would cheer "for Coach". "The girls were very supportive when they learned what I was going through, and I didn't feel uncomfortable when my emotions got the best of me while talking with them. After all, we're all human," Murray said.
Sadly, we had to go through our playoff run without our coach, but that did not stop us from playing our hardest. Coach cheered for us through the TV, and we all knew exactly when she was yelling at us. "Postseason is my favorite time of the year, as I think it is to a lot of coaches, so it was very hard to miss," exclaimed Murray.
After all, we knew this season was going to be strange because of COVID, but we had no idea what else we would face. It would end up being one of the best seasons we have had so far, winning a regional title and making it all the way to Sectional Semi-finals.