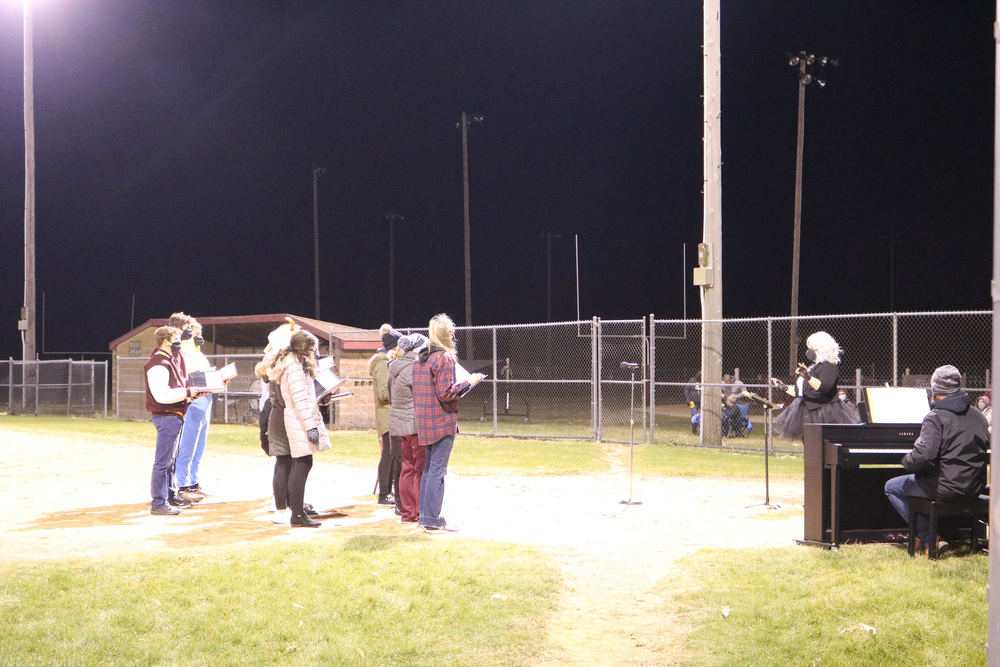 Outdoor Concert Is a Unique Success
Sydney Fecht
Tuesday, November 10, 2020
Parents climbed on to the bleachers on a cold October night to watch a unique outdoor concert that Potosi High School has never experienced before. The concert took place on Wednesday, October 28th on the softball field behind the high school.
Mr. and Mrs. Boneske, who are the band and choir directors respectively at Potosi High School, are feeling very optimistic about the opportunities that the school has given them. Our district has had to implement many new procedures to keep students safe. "I am so thankful that our school supports music and has allowed us to keep our choir classes instead of cancelling them, like so many other districts have done this year around the state," Mrs. Boneske exclaimed.
Some of the new procedures that we have put into place this year in our music classes are using singer masks in choir, as well as using player masks and bell covers in band. We are also rehearsing and performing outdoors. It has been challenging, but so far students have been really flexible with these new editions. "The surrounding schools are not as fortunate to be able to continue to have music throughout their schools," said Mrs. Boneske. As a school we are so fortunate to be able to have outdoor concerts and share with the community the music that we have been learning throughout the time in choir and band. Although only four tickets are allowed per performer, we were able to livestream the concert to anyone that was interested in listening to the performers.
Although it was outside, we have been fortunate to have a concert at all. It was a very chilly night on the softball field that night. Getting Mrs. Boneske's perspective on how the concert sounded, she was very optimistic for future performances. "I thought it went really well considering the fact that it had to be outdoors, and it made me appreciate the auditorium even more," Mrs Boneske explained. There were some minor issues during the concert, like the sound system needing to be a little louder. "If we did it again, we would look into implementing a better amplification method for the choir so they could be heard more clearly," Mrs. Boneske said. Since it was a halloween themed concert, we did dress up in halloween costumes. "One exciting factor is that we got to dress up in costumes and have fun so I am excited to continue to do that and include those elements in future performances," Mrs. Boneske proclaimed.
One safety measure that the music department of our school has added is special singing and playing masks. These masks are supposed to protect from respiratory droplets coming at you while singing or playing. "They have a tighter seal that goes down to your neck so when we are singing it is keeping all the aerosols in our masks and contained better than looser fitting masks," voiced Mrs. Boneske. Another reason the choir and band use different masks is because with the everyday masks that you wear, they slide up and down when you move your mouth. These masks are air tight to your neck allowing more movement in the upper part of the mouth, while not getting sucked into your mouth. "They allow our jaws to move more freely because they have extra space in the middle, they allow us to take longer and fuller breaths because they do not suck into our mouths when we breathe in," mentioned Mrs. Boneske.
Choir and band have gone really well so far; performing has been difficult for both band and choir because it does affect the sound that is being projected. "They have definitely muffled our sound. They block any sort of facial expression that we might be adding, but they allow us to keep singing, and that's the most important part this year," added Mrs. Boneske.
The choir and band are fortunate to still be able to have classes. Schools around have had to cancel any performances. "They allow us to continue to have our classes this year, so if it was between masks or no choir I would obviously choose singing with masks to keep choir classes going any day," said Mrs. Boneske.
Potosi school is happy that we can continue to have musical performances during these times of uncertainty. The continuation of the choir and band concerts will be another time for the history books.