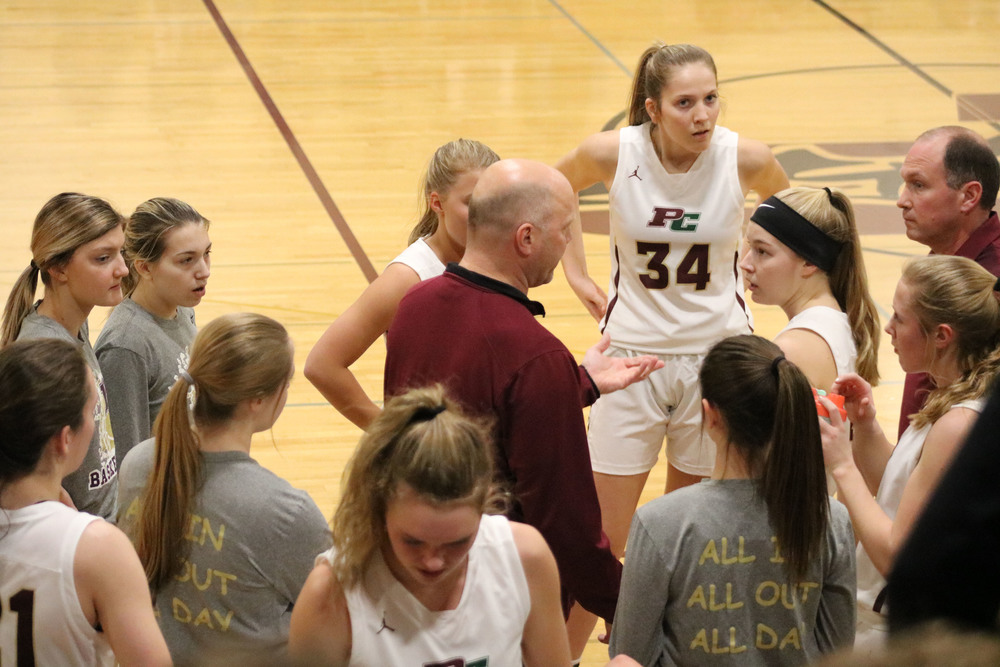 Underclassmen Step Up On Varsity Teams
By Justice Udelhoven
Monday, February 10, 2020
In a small school, where numbers for student-athletes are small, there comes a time when varsity coaches have to look for more players to fill their rosters. Where do they look? To the underclassmen. Usually, a varsity team consists of juniors and seniors, and looking down to the freshmen and sophomores, where the skill has had less time to develop, can be difficult.
Asking a freshman or sophomore to step up to help the varsity team is a big deal for both parties. There are cases where some upperclassmen feel threatened by an underclassman playing up because a lack of numbers isn't the only reason why an underclassman would play up. If the coach believes an athlete has the skills or the ability to be an asset to the varsity team, the athlete has the potential to be pulled up. Here at Potosi, the athletes are pretty good about underclassmen playing up, because it is more common here.
Underclassmen playing up on varsity is more common in the female sports at Potosi, so I focused on the girls basketball and volleyball teams. Junior Lilly Post has been a part of the varsity teams her entire high school career, and played with a very impressive senior group of girls including Abby Kaiser, Sophie Langkamp, Hannah Udelhoven, and Toni Pluemer. The names may sound familiar, considering that was the year Potosi Girls Basketball won a conference championship. Although playing under such great athletes was a great opportunity to learn and better herself, Post said it can be "so intimidating because when you actually go [into the game], they are counting on you to do your best," which is all anyone wants an athlete to do.
Kylie Rueter, now a sophomore, has played on varsity in both volleyball and basketball for two years now, as well as one season in softball. "The first year was scary because I didn't really talk to the older girls, and I didn't really know them." As the seasons progressed, Kylie became more and more comfortable with the girls around her and felt like she was able to play freely without needing to worry about making mistakes. "I did feel more pressure because people were expecting me to do well since I was moved up." The pressure came from teammates, parents, and coaches asking her to do things that she didn't yet know how to do.
Instead of being scared, Sydney Fecht wasn't intimidated at all. "I felt welcomed; the seniors did a good job making sure everyone knew what they were doing." Sydney went into detail about how fairly the seniors treated her and her peers as underclassmen. Many of the girls I interviewed told me that no matter how important the game, they played with the same effort and intensity they would have on JV.
Finding athletes who are willing to sacrifice their playing time for underclassmen is also a huge part of this. If a coach is pulling younger athletes up, then it is assumed that some of the upperclassmen will spend more time on the bench and less time on the floor. A common fear of underclassmen when they are pulled up to varsity is that they don't want to make people mad.
Taking a spot on the varsity team makes things tense if the team is not willing to make the necessary sacrifice, but how do you expect to experience growth without sacrifice? One purpose of playing sports is to win, but another purpose is to grow as an individual and as a member of a team. You must be able to work on a team, and you must be willing to sacrifice in order for the team to succeed. Kareem Abdul-Jabbar said, "the good and the great are separated only by their willingness to sacrifice."