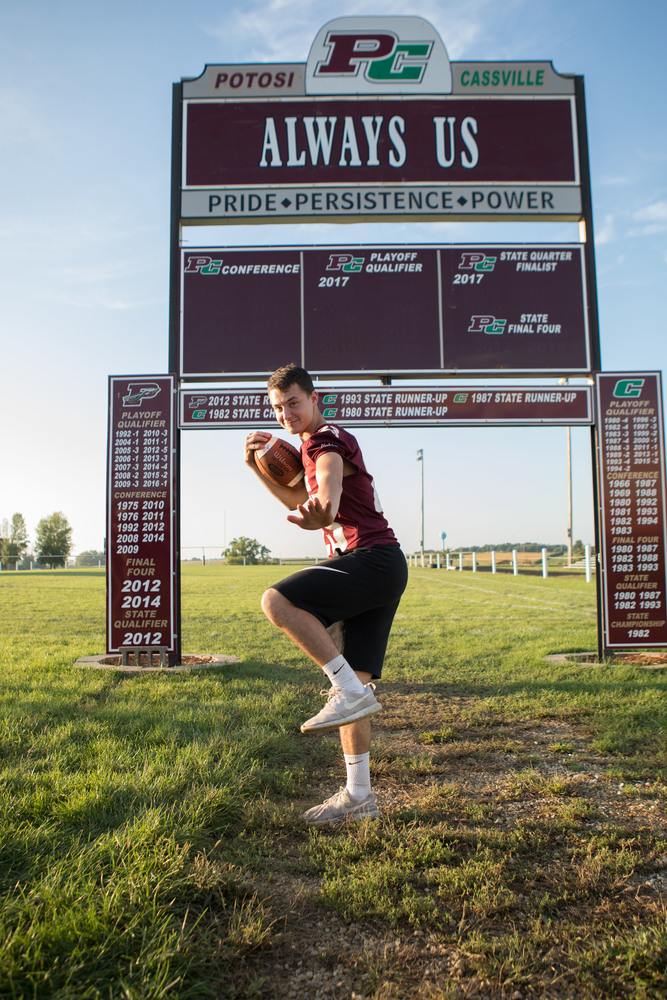 Pleumer Puts on Pads One Last Time
by Ryan Kruser
Friday, January 17, 2020
August 29, 2016 was a date that changed Trevor Pluemer's sports career forever. It was a Week 2 JV football game at Fennimore High School. On the opening kick-off of Trevor's second career football game, he tore his ACL and Meniscus. This unfortunate event led to multiple knee surgeries, countless days of physical therapy, and many hours of hard work and dedication to not only recover from the injuries, but to get even better. Trevor has torn his ACL three times in his life but it hasn't kept him away from the game of football.
Fast forward to the Summer of 2019; Trevor has just finished his first fully healthy football season, a successful track season, and now is on pace to complete his 120 workouts during the football off-season when he goes in for a check-up on his knee and finds out he retore his ACL for the third time. "I was heartbroken. It was one of the most upsetting feelings I have ever had, knowing how hard I had worked and how excited I was knowing I was going to be playing for the final time with my best friends." Knowing he was never going to be able to fully participate in another football game again, Trevor still wanted to be part of the team and find a role for himself on the team. Instead of giving up on his off-season training, Trevor continued to lift and finished the off-season with well over 130 days. Trevor did not continue to lift to benefit himself, he did it to inspire those who could play, those who did not lift as much as they should, and those who take being able to participate for granted.
Trevor was excited for the start of football but it was one of the worst feelings he had ever had. Not being able to lace up the cleats, strap on the shoulder pads, and throw on the helmet was tough, but not being able to bond with his teammates was tougher. The days went by, but Trevor's feeling of frustration and disappointment lasted an eternity. He would have done anything to be able to play again. Trevor took the role of being Coach Siegert's assistant where he made sure everyone was at practice, coached up the scout team, and taught technique during different sets of drills. This was Trevor's best way to be with his friends and football.
An opportunity suddenly arose for Trevor. After a Week 8 football game, Trevor and a couple of friends were talking and an idea got sparked in their heads. They realized it was the last week of the regular season and the last chance for Trevor to ever put the pads on again. So the boys stormed into Mr. Siegert's office and asked if Trevor would be able to play in the next game. Mr. Siegert loved the idea as long as Trevor's father Doug was okay with it. Doug gave Trevor the "okay", and Trevor filled out all of the paperwork and practiced for the first time the whole year.
It was Trevor's first Friday night under the lights wearing pads. The lights were bright, the air was crisp, and Trevor's adrenaline was pumping throughout his body. The feeling was surreal. It was all Trevor had ever wanted. The game started and before Trevor even knew it, it was over. "It was the fastest two hours of my life."
The 2019 Football Season was a roller coaster of emotions for Trevor. There were a lot of lows and a few highs, but it was all worth it for Trevor. This was a time of his life that he will never forget.