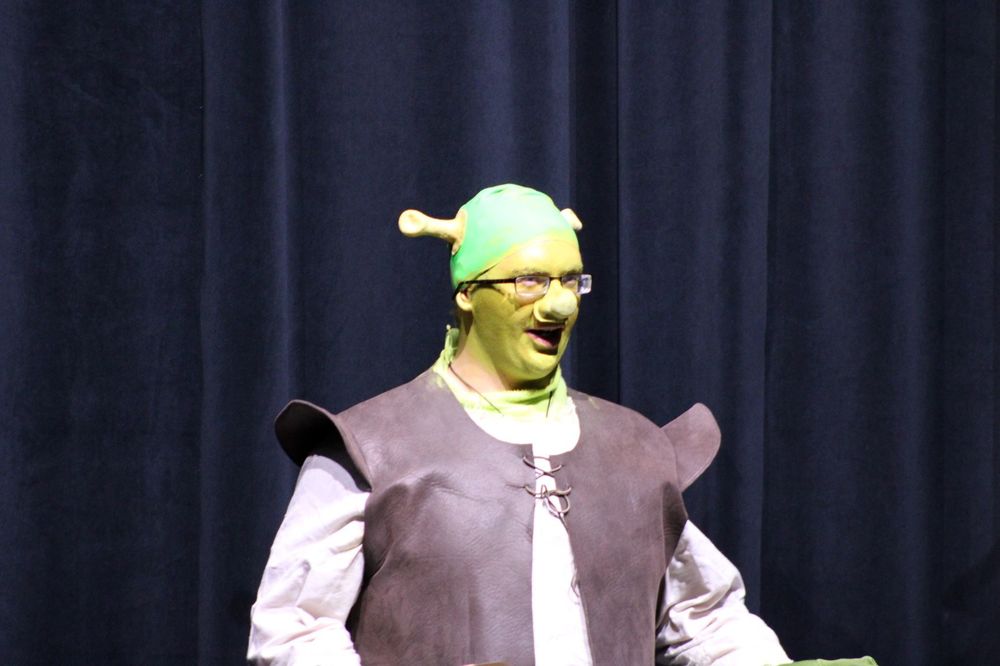 Kliebenstein Reflects on Student-Acting Career
By Ryan Kruser
Wednesday, January 08, 2020
He has starred in over 11 different shows, acting as 16 different characters, and making hundreds of people chuckle and laugh. Still, Steven Kliebenstein prefers to think of himself as a "reliable cast member" rather than as a "star."
Being a part of so many plays and musicals has not only made Steven a good actor, but it has also taught him how to manage his time and helped him get over his fear of public speaking. Arriving at school at 7:30 am and not returning home until as late as 10:30 pm would intimidate all high schoolers, except Steven Kliebenstein. Trying to balance schooling with personal life and play practice is not easy. "It can be difficult, especially as the show gets closer, but using a study hall is a lifesaver. Don't waste it!" This goes to show how little personal time Steven has.
Creating good relationships with the other cast and crew members is always important when working for long periods of time on a common goal. Not only does it allow you to get closer to one another, but it also creates good chemistry on the stage, which translates to better shows. All members of the musicals would call Steven a good actor, but also a good friend and a good leader. Good leadership will lead to more success in any team activity in life. For Steven, the leading role he played on the stage related to helping others with their lines by never yelling for being wrong, but being supportive and helping raise their confidence.
Playing big roles like Shrek, the Dining Table and Couch in Beauty and the Beast, General Genghis Khan Schmitz in Seussical, and Gate Guard of Oz in The Wizard of Oz, among other roles in the plays and musicals took a lot of hard work and dedication. Steven loves to read and he loves to act, so when he heard about the idea of bringing both of them together, it was a no brainer. Steven went on, "Taking a book of lines and music and bringing it to life is an amazing feeling." Steven loves the energy of the crowds. He says the cast feeds off of the crowd's energy and that it inspires them to do better. Speaking from past experiences, Steven made sure that I mentioned that they have had some pretty awesome crowds and that he hopes that the community will continue to be supportive and make an appearance at the upcoming shows.
Steven has enjoyed every show that he has been a part of, but a couple did stand out when I asked Steven what his favorite musical or play has been. Steven's favorite musical he has been a part of so far has been Bye Bye Birdie. It was a show that had a great part for Steven and he enjoyed the music of it. Steven's favorite play has been a part of was The Young and the Murdered because he played a part that was really fun and out of his comfort zone. I went on to ask Steve if he will continue acting after high school. Steve replied, "It would be fun, but I don't think I will." Life outside of high school is busy and it would be hard to manage to find the time to take part in musicals or plays.
Steven has always been a good student, an active community member, and a regular cast member. Steven took a moment to think and then explained, "I'd like to be remembered as someone who put everything they had into making the show the best it can be." This quote just goes to show how selfless Steven is, and important he was to making the shows great.