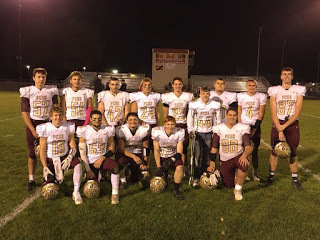 Senior Football Players Reflect on Their Careers
By Ty Dressler
Thursday, December 12, 2019
The smell of freshly cut grass, the pregame music blaring, and cars parked all the way down the highway. These are the things that make the atmosphere at a small-town football game one of a kind. "The only show in town" brings the whole community together every Friday night during the fall. It is a special time of year and many young kids look forward to playing for the hometown team under the lights their whole childhood. In time the kids grow up and get to experience what high school football is really like. And it is everything they thought it would be. But their time with the football team comes and goes, and eventually, they take off their helmet for the last time.
On November 2nd the Potosi-Cassville football team lost a snowy WIAA Level 2 Playoff game. For the 14 seniors, this marked the end of a long road. Although organized football doesn't begin until 7th grade in Potosi, kids start playing during school recess and with their neighborhood friends much earlier. Senior Trevor Pluemer recalled playing football outside his house when he was 5 years old: "I remember going outside, rounding up my friends to play football, and pretending to be like the big kids."
When 7th grade arrived the young boys were finally able to put on a helmet and pads for the first time. Although middle school football is not quite Friday night lights, it still gives players a little taste of what high school football will be like. A little taste is all it takes to get the players hooked for life. Senior left guard Austin Uppena said, "When you start playing middle school football it gives you your first experience with success. That little bit of success drives you to want to work harder and become something when you're older."
Some may think football season is simply from August through November. But players prepare for the season all year long. Potosi-Cassville football players are expected to lift 120 days in the off-season. The weightlifting program is a major factor that makes the football program successful. For a lot of kids, going into the weight room for the first time is an exciting experience. "You're pumped up, but you're also really nervous because there are older kids in there lifting twice as much as you and have been lifting for years. As soon as you touch a weight it becomes a competition with yourself as well as your teammates. If you took away the work, then the season wouldn't be as special because you wouldn't have anything invested," said senior quarterback Ben Udelhofen.
Then that special time of the year finally comes around. Players, coaches, and fans can practically feel the anticipation of the upcoming season in the air. The lines are painted on the field, pads and helmets are passed out, and practices can begin. At last, football is here. At the beginning of the year practices are hours long and are often in smoltering heat. But nobody cares. Everyone is just excited to be playing football. After all the off-season workouts, off-season camps, and weeks of practice, Friday night football is finally here. "The hay is in the barn." The lights are turned on and players are ramped up and ready to go. Many players have been waiting an eternity to play under those lights. Senior Danny Kliebenstein described playing on a Friday night for the first time as "breathtaking." He continued, "You finally go from watching from the sidelines to getting to be a part of the action." Once the games start, the seasons seem to fly by. There are jersey Fridays, homecomings, team meals, playoff games, and so much more that make this time of the year come and go so quickly. Then suddenly, in the blink of an eye, the games were over, and years of work came to an end. All the weightlifting, film sessions, practices, pep rallies, and bus rides were gone in an instant.
Many players mentioned that they will miss "Mr. Siegert's old man quotes." Some seniors said they will miss getting to hit people. But practically every senior said what they will miss most is the camaraderie with their teammates and all of the traditions that football let them be a part of. What this year's senior class will miss most is seeing each other every day on the old gridiron, just trying to get better. Although high school football was only four years long, the memories this year's senior class made will last a lifetime.